Development
Published: 1 November 2023
Cambridge Investment Partnership granted planning for Queen Edith's Way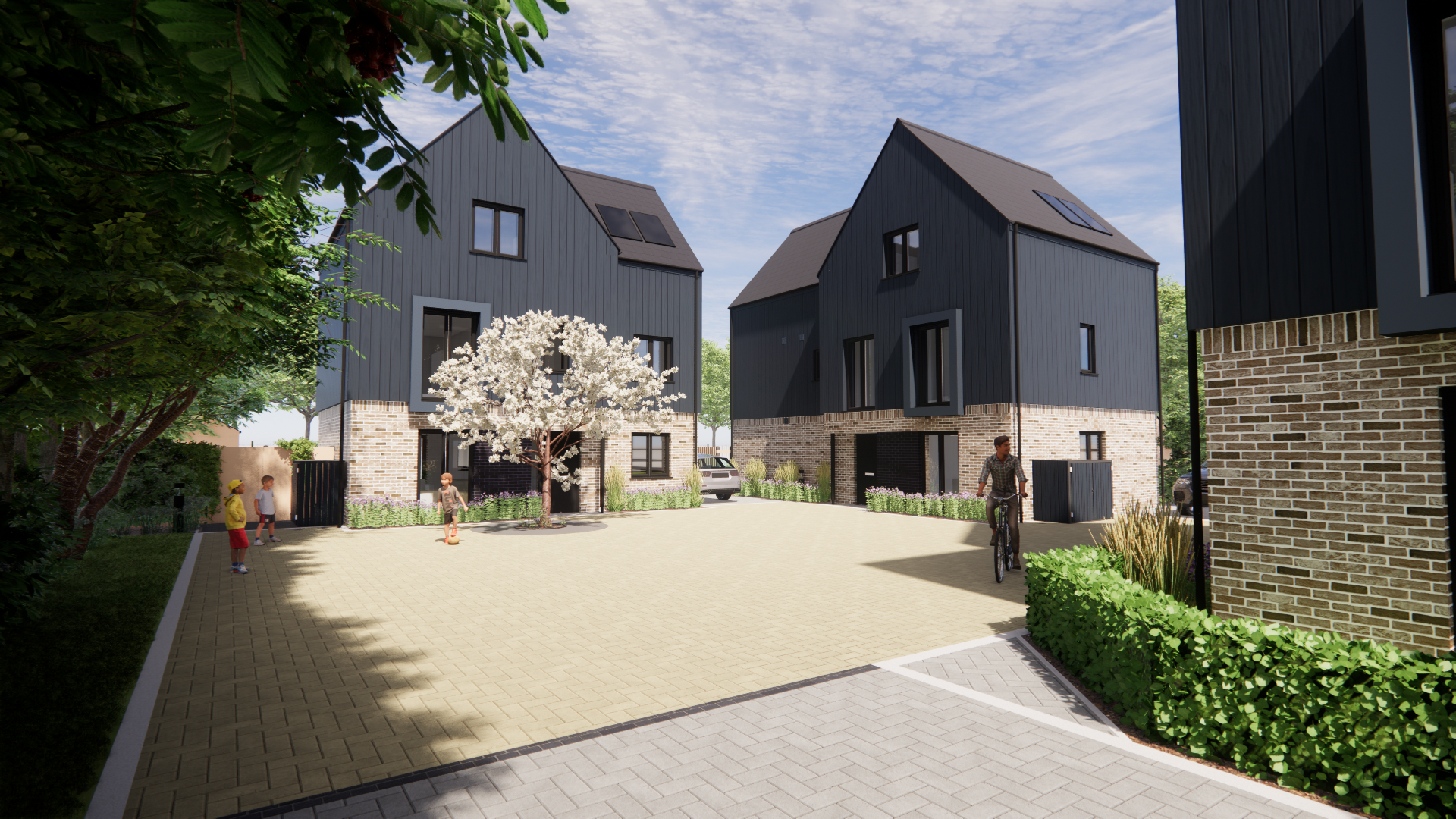 Cambridge Investment Partnership (CIP) has been granted planning permission for eight low-carbon, gas-free family homes at Queen Edith's Way, in the Cherry Hinton ward of Cambridge.
CIP will convert the vacant brownfield site, previously used as a building yard, into a development of new private sale homes, with proceeds from the sale of the homes facilitating the delivery of affordable homes elsewhere in the city.
Plans for the development have been formed through extensive engagement with planning officers and consultation with the local community to create a future-proofed new development designed to exceed local sustainability policies.
Cllr Gerri Bird, Executive Councillor for Housing at Cambridge City Council and a CIP board member, said, "We are delighted to receive planning at Queen Edith's Way. These new homes will provide us with further funds that the partnership can reinvest into the programme to deliver more new council homes across the city."
The development will feature a mixture of three, four, and five-bedroom homes, each generously sized and designed around modern living, featuring a study/home office to support home working and large windows that make the best use of natural lighting and ventilation.
The homes will be arranged along the width of the site, with some collated around a courtyard at the eastern end of the development and benefiting from south-facing gardens. The development will be accessed via a long driveway, with each home having off-road parking and electric vehicle charging points.
Tom Hill, Managing Director at The Hill Group, said, "We will be creating homes with residents' wellbeing in mind, providing ample cycle parking and footpaths to encourage sustainable commuting. "We are also promoting low-carbon living through the use of highly insulated building fabric, and the gas-free development will be equipped with air-source heat pumps and photovoltaic panels to generate renewable energy for each home. We look forward to work starting on site towards the end of the year."
The new development has been carefully designed to share the characteristics of both the traditional and contemporary styles already present in Queen Edith's Way while creating its own identity and character, with light buff mottled bricks being used in keeping with the traditional Cambridge style. This is complemented with contrasting dark brickwork panels to denote the entrances, with homes facing the courtyard featuring vertical cladding boards above the first-floor level.
Situated in a highly accessible location in Cambridge, the development integrates well with existing cycling infrastructure and provides easy access to a wide range of amenities. The development's design actively promotes cycling, offering secure cycle parking and Sheffield hoops conveniently positioned near entrances for drop-off and short-term storage.
Queen Edith's Way will deliver a 20% biodiversity net gain through a carefully considered landscaping scheme that includes preserving the majority of existing trees, ensuring privacy for current residents, and serving as a visual and acoustic buffer. Additionally, new trees, hedges, and native shrubs will also be planted.
The development will feature hedgehog highways between all the new gardens and the eastern boundary, helping to protect this vulnerable species. Furthermore, bird and bat boxes will be incorporated into the new development.